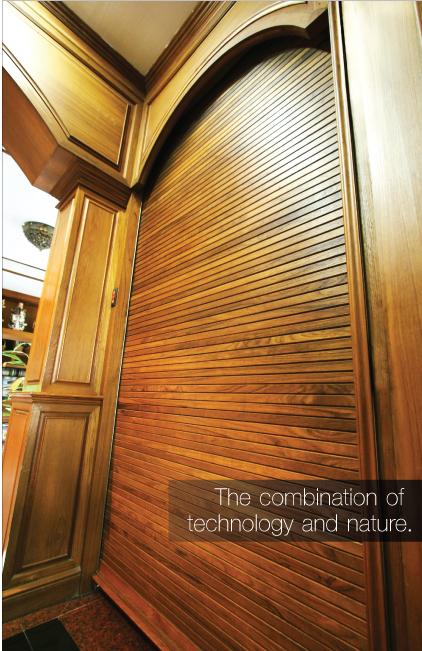 Design
The combination of woodwork and roller shutter, which become to golden teak roller shutter. This is the most special roller shutter because it is handmade. We need to find the golden teaks with the needed size and similar color and carve it to the shape by hand. For this reason, the production will take longer time to finish. Sometimes, we cannot find the suitable golden teak to produce.
Security Material
Teak is the best quality of wood. Teak is the common name for the tropical hardwood tree species Tectona grandis and its wood products. Tectona grandis is native to south and southeast Asia, mainly India, Indonesia, Malaysia, and Burma, but is naturalized and cultivated in many countries, including those in Africa and the Caribbean. Teak divided into five types: Bojonegoro Teak, Banuywangi Teak, Dahat Teak, Philippine Teak and Tectona Grandis.
Adventages of Teak
Teak is strong and high quality.
Teak has natural colors and beauty.
Teak will have to insert some type of oil or substances such as
growth substances Quebec Non-Tech. (Tectoguinone),
a substance that is toxic to insects, termite and mold.

Acid-resistant steel does not rust. Resistant to all weather.